Our Pledge
Diversity & Inclusion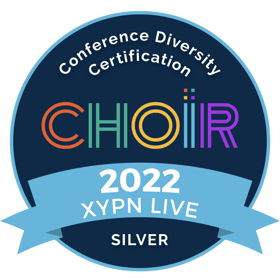 XYPN LIVE promotes diversity, equity, and inclusion—and we've been recognized for our work on conference diversity by Choir, earning the Silver Choir Certification for our diverse and inclusive lineup of speakers on the LIVE stage in 2022.
The Choir CertificationTM was created to set the standard for diversity in financial conferences. Choir's mission is to make industry events more representative of the U.S. population—it's our goal too.
Choir's proprietary algorithm uses hundreds of data points to measure the prominence and visibility of people of color, women, and non-binary people on conference stages. Using seven key visibility factors, Choir quantifies how well a conference agenda represents and highlights the voices of people of color, women, and non-binary people in comparison to their representation in the U.S. population; this is ultimately quantified as the Choir Score™. Conferences with a score of 60 or higher, and which also meet the Choir Pledge criteria, qualify for certification.
Diversity & Inclusion in Practice
XYPN has always set internal standards while building out the XYPN LIVE conference schedule—this year is no different. We are continuing to uphold our internal standards while partnering with Choir.
Keynote Speakers:
At least 1/3 of keynote presenters will be non-white
At least 1/3 of keynote presenters will be non-male
Content Sessions:
At least 50% of speakers will be female
At least 20% will be non-white, not including the diversity panel
In 2017, XY Planning Network introduced our anti-harassment Code of Conduct. It's a zero-tolerance policy that safeguards against sexual harassment at our conference, strictly prohibiting harassment of any kind. To further cultivate a culture of accountability, our conference app includes a function for reporting inappropriate conduct.
Since its introduction, our conference Code of Conduct has gained national praise, drawing the attention of publications such as WealthManagement.com and ThinkAdvisor for its firm stance against sexual harassment and its strong spirit of inclusivity.
The Policy
We do not tolerate institutional or interpersonal discrimination or harassment in any form—including but not limited to micro-aggressions, racism, xenophobia, sexism, ableism, classism, ageism, weight discrimination, mental health status discrimination, transphobia, and/or homophobia.
Who the Policy Applies to
The Code of Conduct is strictly enforced, applies to all exhibitors, speakers, vendors, sponsors, and attendees, and is without exception. Choosing to join the Network or attend XYPN LIVE evidences your cooperation and agreement with the policy to help ensure a safe and inclusive environment for everybody.
The Purpose
Our anti-harassment Code of Conduct formalized our ever-present commitment to inclusion. This means that XYPN LIVE is a place where individuals can show up as their true authentic selves without the threat of discrimination, sexual harassment, or hostile environments. If an incident occurs, there are procedures in place that will help ensure that individuals who are creating harm or harassment are disciplined or removed.